Depending on your line of work, your personal protective equipment (PPE) can be something as simple as a sturdy pair of gloves or as complex as a fully encapsulated, vapor-protective suit with a self-contained breathing apparatus. Your PPE could save you from some minor discomfort or save your life. Choosing the right protective clothing and equipment is worth careful consideration, and finding the right fit is just as important.
Hard Hat Sizes
Hard hat sizes can seem a bit mysterious. To measure for your hat size, place a soft cloth tape measure around the widest part of your head (this is usually just above the eyebrows). Pull the tape measure snug, but not tight. Convert inches to hat size using the sizing chart below.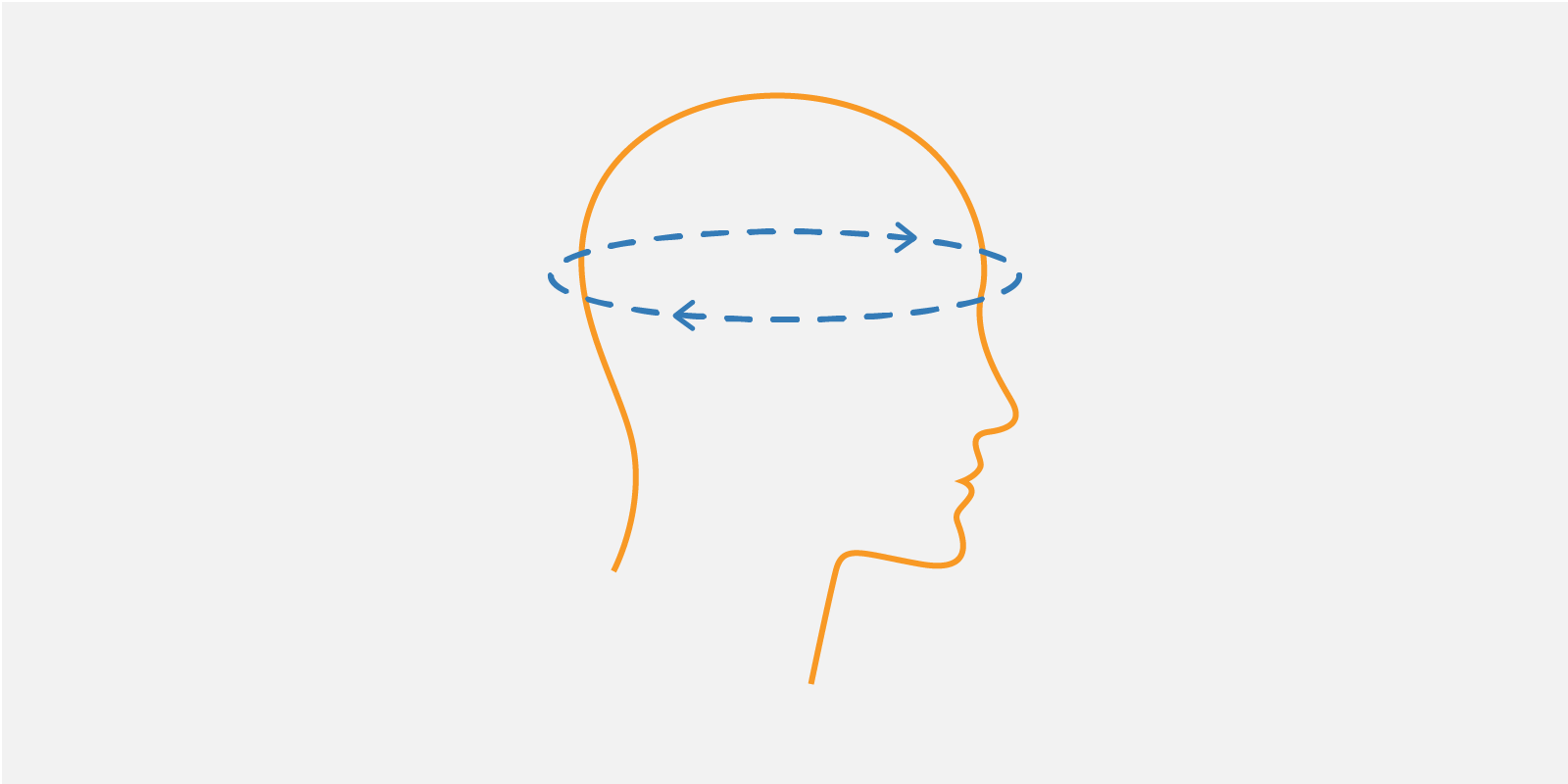 Sizing Chart
Hat Size
Circumference
Centimeters
Inches
6 1/2
52
20 1/2
6 5/8
53
20 7/8
6 3/4
54
21 1/4
6 7/8
55
21 5/8
7
56
22
7 1/8
57
23 5/8
7 1/4
58
22 3/4
7 3/8
59
23 1/8
7 1/2
60
23 1/2
7 5/8
61
23 7/8
7 3/4
62
24 1/4
7 7/8
63
24 5/8
8
64
25
8 1/2
68
26 1/2
Note: This table is intended for sizing guidance of round head bands only and should not be
construed as prohibiting larger or smaller headbands
Source: ANSI/ISEA Z89.1-2014
For more information on hard hats see Quick Tips #241: Hard Hat Requirements.
Eyewear
Safety eyewear size measurements depend on the type of lens you have. With a single-lens system, size is measured in millimeters (mm) from the outside of the left temple to the outside of the right temple (25.4 mm equals an inch). If the eyewear has a two-lens system, such as prescription eyewear, size is measured in mm from the left to right of each lens.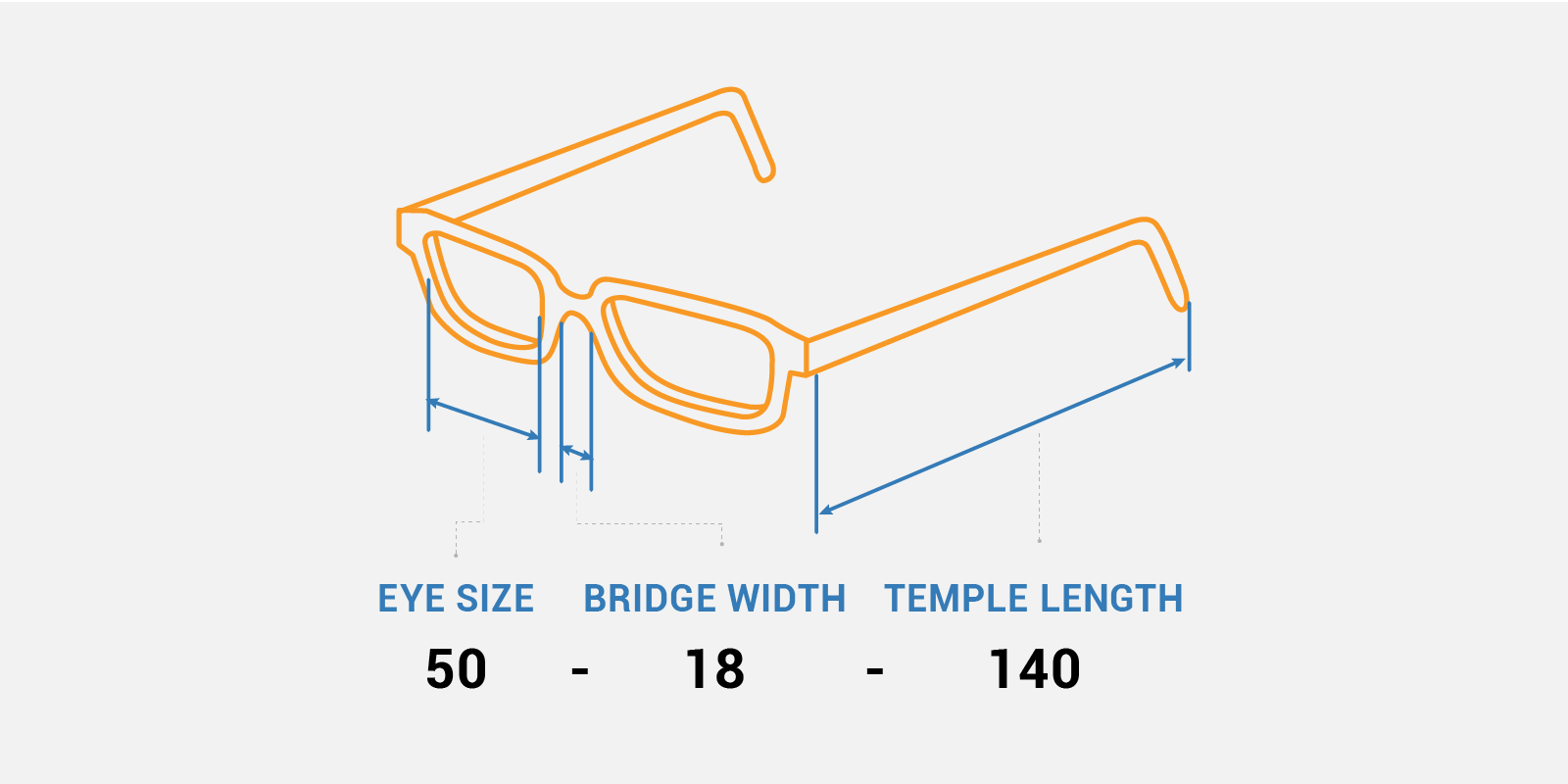 The most current American National Standard for Occupational and Educational Personal Eye and Face Protection Devices (ANSI/ISEA Z87.1-2015) provides for products designed for smaller head sizes. These products are marked with the letter "H."
Respirators
Of all PPE sizing challenges, accurate sizing for respirators is the most critical. Confusion sometimes occurs because respirator sizes are given descriptors (small, medium and large), but these generally do not relate to any measurable value. Respirators are made with the assumption that most people's faces and heads have about the same width and length. This means that a medium size will fit approximately 70 percent of the adult population. Small and large sizes are made for a minority of the population. People who need these sizes generally know from their experience buying hats or prescription eyewear that their face and head size falls outside the norm. The only way to ensure the correct size for tight fitting respirators is to conduct the required fit testing.
Gloves
It is important to know how to measure the hand to get a proper fitting glove. Measuring the hand for correct fit will give the employee the best possible protection without compromising the task, duty or safety of the wearer. There are two suggested ways to find the correct glove size. One way is to measure the width of the hand — measure around the hand (a dominant hand measurement is preferred) with a tape measure as shown below. The dominant hand will be the right if you are right-handed and left if you are left-handed.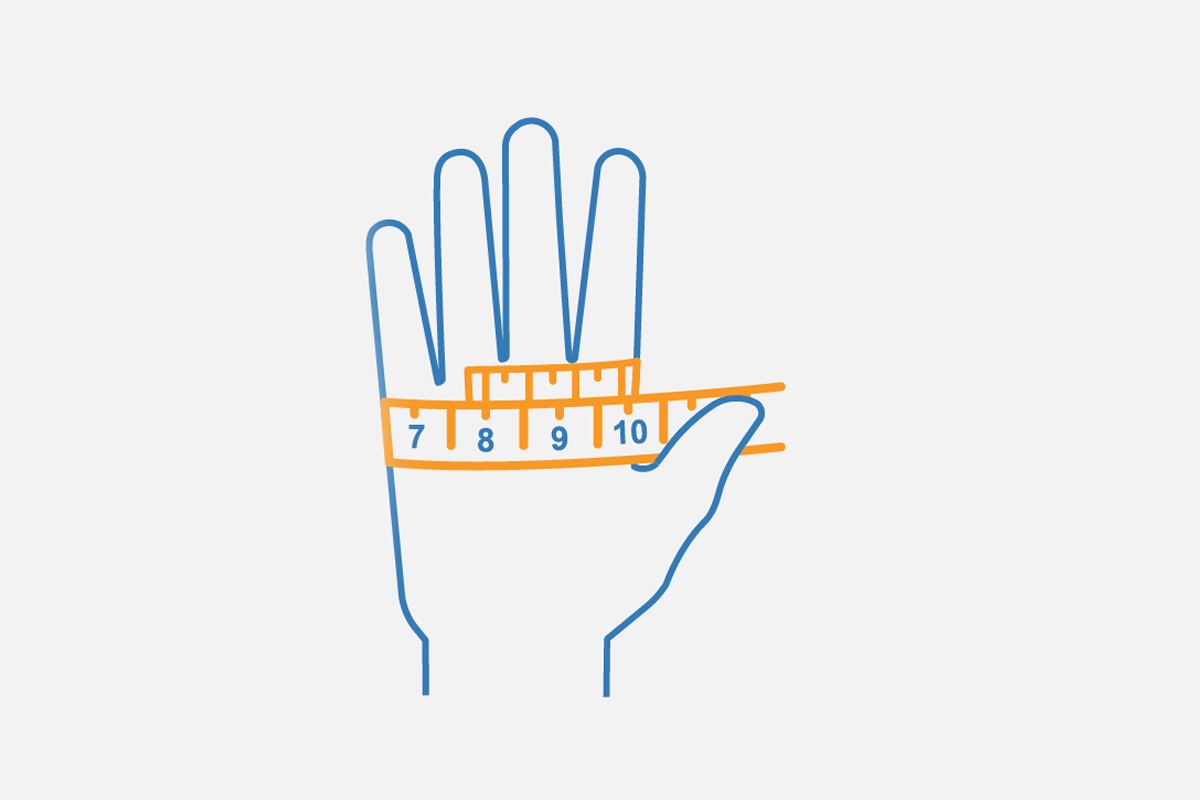 If the gloves you are purchasing come in numbered sizes, you can relate the measurement directly to the numerical size listed for the glove. For example, if the measurement taken is exactly eight inches (203 millimeters) then you would select a size eight glove. To avoid hand fatigue, order the next larger size for all measurements that are not exact inch/millimeter measurements. If the gloves you are purchasing come in extra-small (XS), small (S), medium (M), large (L), extra-large (XL) or double extra-large (XXL), use the table below to translate the inch/millimeter measurement.
US Sizes
EU Sizes
6–7 Inches
XS
152–178 Milimeters
EU - 6
7–8 Inches
S
178–203 Milimeters
EU - 7
8–9 Inches
M
203–229 Milimeters
EU - 8
9–10 Inches
L
229–254 Milimeters
EU - 9
10–11 Inches
XL
254–279 Milimeters
EU - 10
11 + Inches
XXL
279 + Milimeters
EU - 11
Source: Turtleskin Glove/Warwick Mills, Inc.
Another method is to measure the length of you hand by measuring from the bottom edge of the palm to the tip of the longest finger as illustrated below.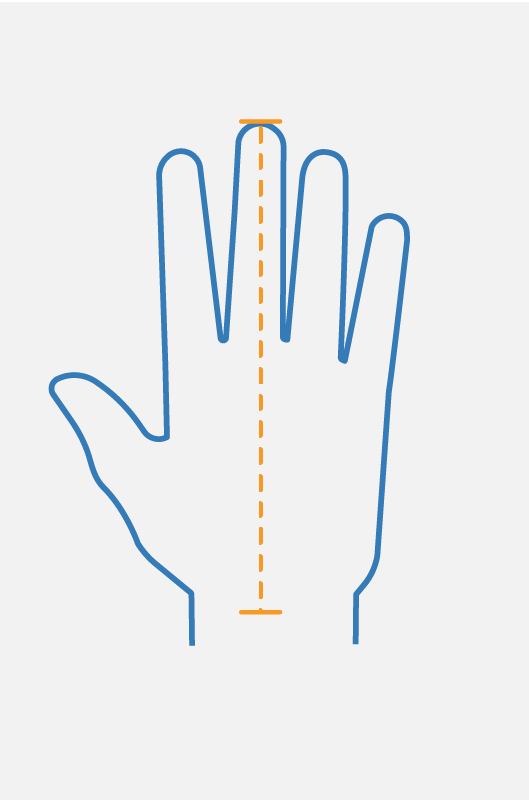 US Sizes
EU Sizes
6 5/16 Inches
XS
160 Milimeters
EU - 6
6 3/4 Inches
S
171 Milimeters
EU - 7
7 3/16 Inches
M
182 Milimeters
EU - 8
7 9/16 Inches
L
192 Milimeters
EU - 9
8 1/16 Inches
XL
204 Milimeters
EU - 10
8 7/16 + Inches
XXL
215 + Milimeters
EU - 11
Source: Turtleskin Glove/Warwick Mills, Inc.
For additional information on proper selection of gloves, please refer to Quick Tips #306: Safety Glove Size Chart.
Safety Shoe Size
By the time we reach adulthood, most of us have figured out how to find a pair of comfortable shoes, but in PPE, overshoes/overboots sizing can be confusing. Most overshoes/overboots are sized to fit men, to fit over the shoes being worn underneath and to correspond in size. For example, a size 10 overshoe should fit over a size 10 shoe.
Women's to Men's Shoe Sizing Conversion
When converting women's shoe sizes to men's shoe sizes, you need to size down two whole sizes. For example, a women's shoe size 10 is a men's shoe size 8. Also bear in mind that men's footwear tends to run wider than women's footwear.
Men's International Shoe Sizing Conversion Chart
When converting a men's shoe size to the correct U.S. shoe size, use the following chart. For example, a men's European shoe size 44 is a U.S. shoe size 10.5.
US & Canada
M
3.5
4
4.5
5
5.5
6
6.5
7
7.5
8
8.5
9
10.5
11.5
12.5
14
W
5
5.5
6
6.5
7
7.5
8
8.5
9
9.5
10
10.5
12
13
14
15.5
Europe
 
35
35.5
36
37
37.5
38
38.5
39
40
41
42
43
44
45
46.5
48.5
Source: Grainger
Sizing Charts For Clothing
Please note that these charts are a guide for garment selection, but proper fit varies with individual body shape, underclothing, type of clothing and manufacturer. Test for proper fit before use. Garment performance depends on selecting the appropriate size.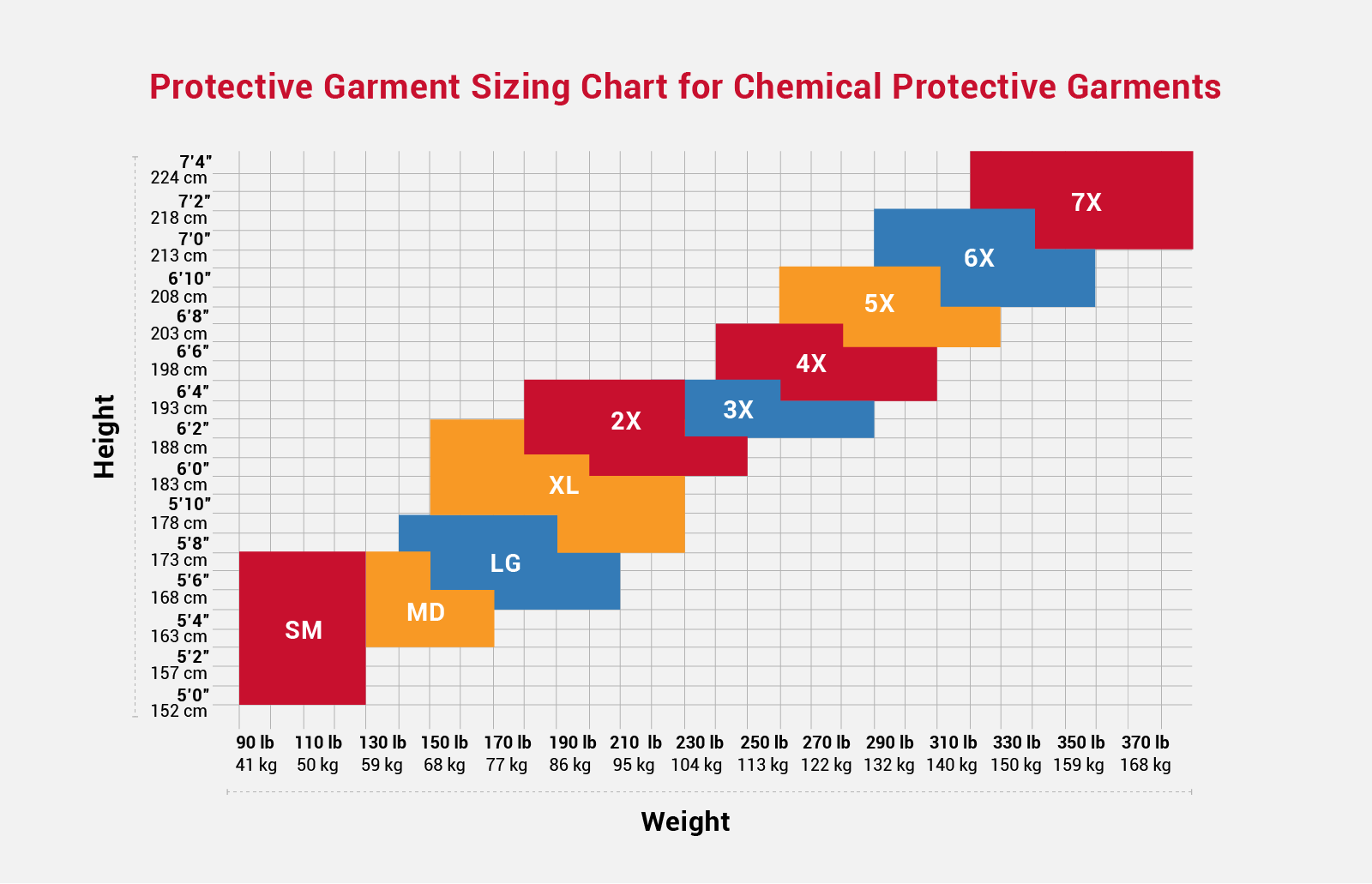 Source: DuPont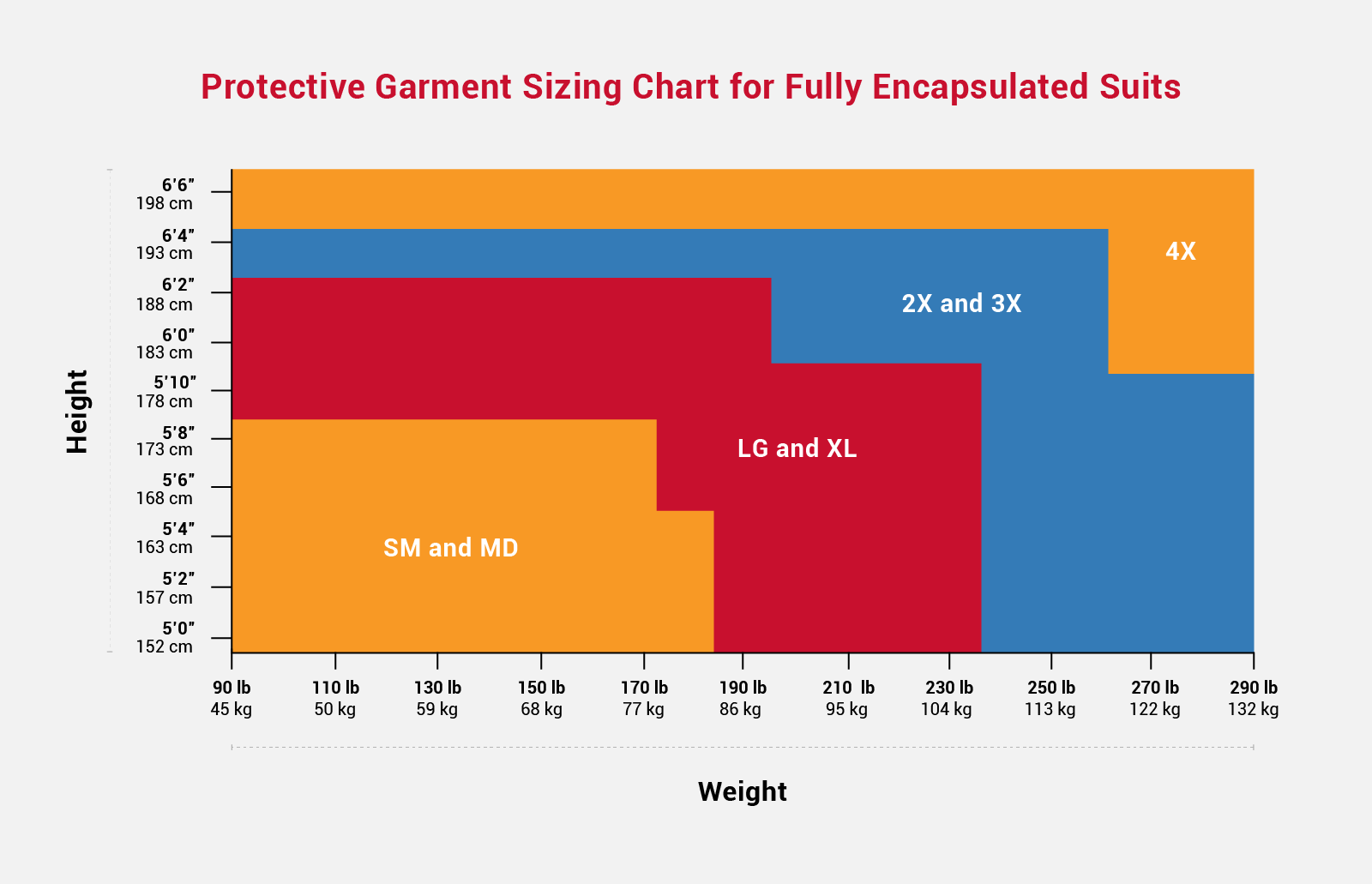 Note: This chart is based on individuals wearing SCBA, safety helmet and standard work clothing. Fit varies with individual body types.
Source: DuPont
Workwear Clothing
Men's Sizing
| | | | | |
| --- | --- | --- | --- | --- |
| Size | Neck | Chest | Waist | Sleeve |
| S | 14–14.5 | 34–36 | 28–30 | 32.5–33 |
| M | 15–15.5 | 38–40 | 32–34 | 33.5–34 |
| L | 16–16.5 | 42–44 | 36–38 | 34.5–35 |
| XL | 17–17.5 | 46–48 | 40–42 | 35.5–36 |
| 2XL | 18–18.5 | 50–52 | 44–46 | 36.5–37 |
| 3XL | 19–19.5 | 54–56 | 48–50 | 37–37.5 |
| 4XL | 20–20.5 | 58–60 | 52–54 | 38–38.5 |
| 5XL | 21–21.5 | 62–64 | 56–58 | 39 |
| 6XL | 22–22.5 | 66–68 | 60–62 | 40 |
Source: Gempler's
Women's Sizing
| | | | |
| --- | --- | --- | --- |
| Size | Bust | Waist | Hips |
| XS (0–2) | 31–32 | 24–25 | 34.5–35.5 |
| S (4–6) | 33–34 | 26–27 | 36.5–37.5 |
| M (8–10) | 35–36 | 28–29 | 38.5–39.5 |
| L (12–14) | 37.5–39 | 30.5–32 | 41–42.5 |
| XL (16–18) | 40.5–42.5 | 33.5–35.5 | 44–46 |
| 2Xl (20) | 45 | 36 | 48.5 |
Source: Gempler's
Rainwear Clothing
Unisex Sizing Chart
| | | |
| --- | --- | --- |
| Size | Chest | Waist |
| XS | 32–34 | 26–28 |
| S | 36–38 | 30–32 |
| M | 40–42 | 34–36 |
| L | 44–46 | 38–40 |
| XL | 48–50 | 42–44 |
| 2XL | 52–54 | 46–48 |
| 3XL | 56–58 | 50–52 |
| 4XL | 60–62 | 54–56 |
| 5XL | 64–66 | 58–60 |
| 6XL | 68–70 | 62–64 |
Source: Gempler's
Sources
American National Standards Institute (ANSI) for Occupational and Educational Personal Eye and Face
Protection Devices, ANSI/ISEA Z87.1-2015
American National Standards Institute (ANSI) for Industrial Head Protection, ANSI/ISEA Z89.1-2014
DuPont Personal Protection – 2018 Product Catalog
Gempler's Carhartt and Work Clothing Size Charts