Rewriting the Conversation
This white paper builds on the existing idea of safety culture and offers strategies for supporting safe operating actions. We will look at safety culture from a managerial and worker perspective and propose, based on empirical research, safety management values that can guide safety management and technical practices in large and medium-to-small organizations.
In an effort to reframe the conversation about safety culture, we propose a new model of the relationship between safety culture and safety outcomes, and we give safety leaders actionable strategies that will help them move forward.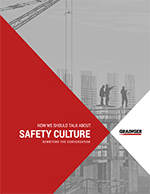 GET WHITE PAPER